Deliver Your Course Content Remotely
---
In the case that you and your students are separated due to unforeseen circumstances, you can still deliver your lecture and course content remotely. Course content encompasses lectures, learning materials, syllabus, and readings. Consider the mode of delivery that would maximize flexibility while still meeting the expected course learning outcomes.
DIFFERENCE BETWEEN REMOTE AND ONLINE
Remote Instruction

Online Teaching + Learning

 

Moving content designed for face-to-face instruction online for a limited or one-time-only course instruction due to a temporary separation of instructor and students.

 

The intentional design and implementation of course content, assessments, and online interactions that support alignment of learning outcomes and effective student learning experiences in a fully online environment.
Quick Strategies for Remote Delivery
Sychronous
Deliver live lectures at a scheduled day and time, using video conferencing tools that offer real-time, two-way video and audio.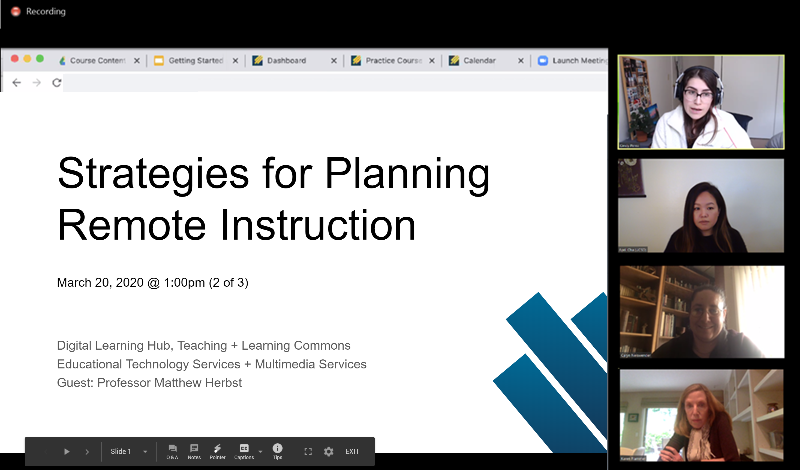 live video conference
---
Advantages for your students:
can ask questions in real time
may feel a stronger sense of community
develop and demonstrate skills in real-time
Considerations:
scheduling conflicts or time zone differences
technical and equipment requirements for students
privacy and personal preferances when recording
troubleshooting live technical challenges can be much harder and distracting to the lecture
Campus-Supported Tools:
Asynchronous
Pre-record your lectures and release them to students in advance so that they can watch and learn at their own pace and time.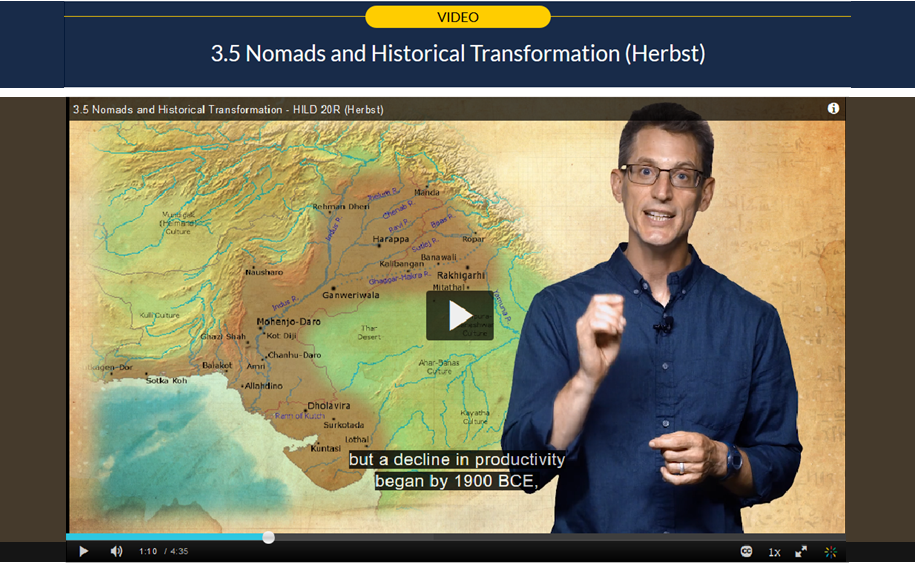 Matthew Herbst (HILD 20R)
---
Advantages for your students:
Know what to expect, better manage their time
More time to process and be thoughtful in their work
Instructors can prepare materials in advance and focus on engagement and coaching
Considerations:
students can feel a sense of isolation if there is no communication
students need guidance on engagement expectations and required contribution
Campus-Supported Tools:
---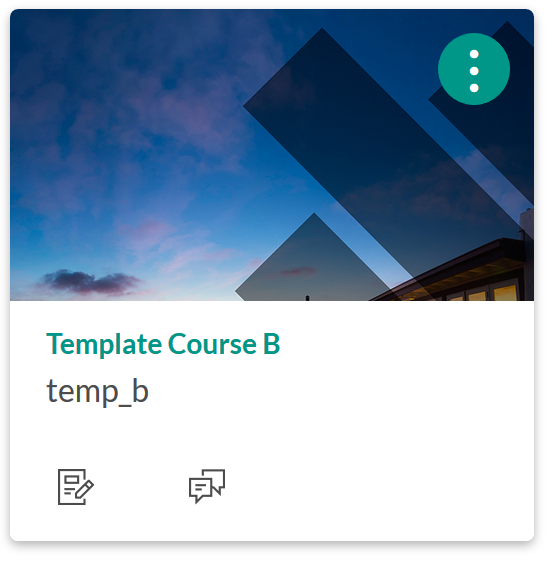 The Digital Learning Hub has started a Template Course in Canvas, which provides faculty and course instructors with a sample course structure, module layout, guidelines and academic support resources available to students, and the integrated tools that are available within every standard Canvas course. This course structure follows an asynchronous mode of lecture delivery via Kaltura Media with synchronous office hours via Zoom.


To download the course from Canvas Commons, search "UCSD Template."
To transition quickly to remote instruction, use a simple weekly structure. Each week, break up your content into these three categories = Lecture + Readings + Assignments.
This will help you create a structure for each week and help you identify the essential learning material and essential exercises that will get students to the expected learning outcomes. Take for example the table below which organizes a single week for the student, identifying what they are expected to Watch, Read, and Complete by the end of the week.

Source: Matthew Herbst, HILD 20R

Creating this guided sequence for your students will help them pace themselves and self-regulate in order to reach the learning goal. Keep in mind, remote students will have the flexibility to return to readings or return to recorded lectures should they need to revisit particular lessons.

You can use Canvas Modules to help you organize your course sequence.

Having consistent due dates for all activities will help you, your IAs, and your students better manage time and expectations week to week.
For example:
Discussions due Thursday at 11:59pm
Assignments due Saturday at 11:59pm
Providing consistent due dates help students manage their expected work load week to week, prepare for their assessments, and think about the assignment prompts as they go through lecture and read the material.
Your IAs will also know when to grade assignments and when to return feedback to students in preparation for the next milestone assignment.
Tools: You can assign due dates to all of your Canvas Assignments in advance. Setting due dates will allow the assignments to appear in the course calendar.
---
Update your Syllabus to reflect your new mode of delivery. Your Syllabus will help guide your students on this new format, set the tone for the course, invite them to participate, and provide key information they will need to succeed, including:
Course Schedule
Course Materials and Software
Activities and assignments
Grading breakdown
Technology Requirements
Guidelines for Remote Participation
Academic Support Services
Academic Integrity statement
Review the
Learner-Centered Syllabus Guide
for a complete overview. You can also download a Learner-Centered Syllabus template and personalize it for your class.
Your course materials include:
Lecture Videos
PowerPoint Slides
Reading articles and Text
Practice Worksheets
Handouts
and any other documents and content files that equip your students and help them learn the information, concepts, processes, terminology, and applications in your course.
These materials should be uploaded or linked in the Canvas course and made available to your students within the weekly module.
Chunking your lecture into smaller, more digestible learning concepts will help you better organize your lecture, as well as help your students better retain the information.
For example, in HILD 20R, Professor Herbst delivers weekly lecture content through smaller, topical micro-lectures, supplemented by notes on Canvas. In the course's week on "Religious Change in Afro-Eurasia and MesoAmerica," Professor Herbst presents the content through the following videos, listing the title and length of each video for student view:
Introduction: The Rise of Universal Religions [1:34]
Christianity and Empire [6:26]
Spread of Christianity [7:10]
Transformation of Empire [8:50]
Persian Empire [4:31]
Persia, Rome, and the Silk Roads [5:12]
South Asia [5:37]
Changes in Post-Han China [7:57]
Religion and Society in Post-Han China [6:50]
MesoAmerica: Overview [3:47]
MesoAmerica: The Classical Era [4:30]
Keeping videos short and focused will help your students better grasp the concepts, navigate directly to a particular concept video for further learning, and also help them self-regulate and pick up where they have left off in the course.
After recording your lecture videos, organize the order in which your students watch the videos by embedding each video directly onto a Canvas Page.
If real-time synchronous lectures are necessary to facilitate interaction, demonstrate specific processes, and develop skills that can only be done in real-time, the strategies below will help you prepare, organize, and focus on delivering an effecting synchronous lecture.
If you wish to record your Synchronous Lecture videos and make them available for students who are unable to attend at the scheduled time due to special circumstances, technology requirements, or other conditions, add a note to your Syllabus.
At the start of your Lecture, also be sure to announce that you will be recording and include a note on your slides indicating the lecture is being recorded, will be captioned, and made available on Canvas.

---
SCHEDULE YOUR SYNCHRONOUS MEETINGS IN ADVANCE

Use the ZOOM LTI Tool in Canvas to schedule your lectures. This will appear on the student's course calendar and notify them of an upcoming meeting. Students will be able to join the meeting from the same ZOOM LTI link in Canvas.
See Schedule Synchronous Meetings.
---

Tips and tricks for Synchronous Virtual Lessons:
Source: Teachers Educating on Zoom.
For help with setting up a meeting on Zoom, see the EdTech Zoom Guides.
(to yourself and your students)
Remember that this quick transition to remote instruction doesn't need to be perfect. Keep it simple and manageable, and create a structure that will work best for you and your students, while staying true to the learning objectives of the course.
Also, keep in mind that your students may or may not be in the same time zone, may not have the required equipment or access to stable network, may be adjusting to life circumstances due to this quick change, or may simply be adjusting to this new format. Be flexible and allow room for error and growth in this period of transition.
---
Additional resources:
Ching, K (UC Davis). Emergency Remote Writing Instruction.